Mary Rand and Danny Nightingale given the freedom of Wells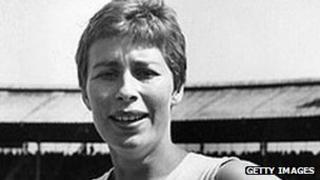 Two former Olympic gold medallists have been presented with the freedom of Wells.
Mary Rand became the first British female athlete to win a track and field Olympics gold medal, in the long jump at the Tokyo Games of 1964.
Danny Nightingale also received the award on Sunday afternoon. He won a team gold in the modern pentathlon at the 1976 games in Montreal.
The ceremony took place at Wells Town Hall at 14:00 BST.
Following the ceremony the Wells City Band and the Town Crier led a march to St Cuthbert's Church for a service of celebration.
Ms Rand visited her former school in Wells on Friday.
She met pupils at Stoberry Park Junior School to show her medals and later judged a long jump competition.