Insurance problems follow Somerset floods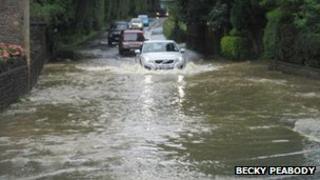 Some homeowners in Somerset say they cannot get home insurance because their properties have been flooded.
Others say the cost of their insurance premiums are soaring following recent floods.
The government is finalising a plan that will mean a charge paid on all home insurance policies will subsidise cover for those most at risk of floods.
But insurance broker Jason Livingstone said he thought the government should be spending more on flood defences.
There is currently no legal requirement for insurance companies to cover properties they think are at too great a risk of flooding.
'Better deal'
Environment Minister Richard Benyon told BBC Somerset that under the new plans, all insurers would be required to contribute to the cross-subsidy, and householders' bills would not go up.
"That will mean that houses in severe or serious flood risk areas that currently can't get insurance or can only get it at a very high price will be able to get it at an affordable level," Mr Benyon said.
"I completely understand why people in Somerset who live in a flood plain, who are seeing the potential for huge hikes in their premiums, have been looking very nervously at whether the government were going to be able to come to this agreement.
"We've got a better deal than exists now because not only is flood insurance going to be available to them, it's going to be at an affordable rate."
But Mr Livingstone, from Livingstones Warman Insurance Brokers in Yeovil, said: "I think they [the government] should do what they said they would in the beginning which was put in flood defences.
"It's not you or me, it's not the consumer who decided to build properties on flood plains.
"It was the government giving the authority to have properties built on flood plains, where we've got the problem now."