Priddy Sheep Fair cancelled due to weather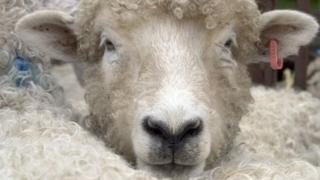 An annual sheep fair in Somerset that has been running for more than six centuries has been cancelled due to "the exceptional weather".
The event, due to have been held on 22 August, would have been the 664th Priddy Sheep Fair.
The fair has been held every year since 1348, apart from in 2001 and 2007 because of foot-and-mouth disease.
Martin Edwards, chairman of the Sheep Fair Committee, said cancelling it had been "a really tough decision to take".
The fair moved from Wells to the Mendip Hills village in 1348 because of the Black Death, although evidence has been found of a fair being held in Priddy before that.
Mr Edwards said: "We had a realistic look at all the options that were available to us but, in the end, the safety of our helpers and visitors attending the fair had to come first.
"The ground conditions here are terrible and the Village Green has been badly damaged by previous events.
"We must also consider that the other fields we use are based on the goodwill of the landowners, who allow their land to be used for free, but don't want to see the fields turned to mud."
He said it would take several weeks of fine weather to dry the ground out.
Alan Hutfield, chairman of Priddy Parish Council, said planning for the 664th fair, which will now take place next year, was already under way.