Currymoor flood fear over Taunton homes plan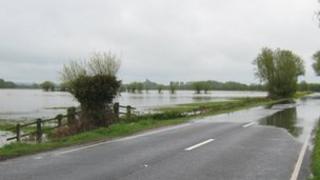 Flooding on the Somerset Levels could worsen if five thousand planned new homes are built, a councillor has warned.
Councillor Gill Slattery (Lib Dem) has said water levels could rise downstream in Currymoor and along the rivers.
She is set to ask Taunton Deane Borough Council to put aside £10,000 for flood defences on Currymoor.
The council has said it is aware of the situation and the full council would decide whether to allocate the money.
Mrs Slattery said the water levels could rise due to more solid road surfaces which will create a quicker run-off of water into rivers and the nearby moors.
Mrs Slattery said the money should come from the council's £50,000 floods budget which has not yet been spent.
Correction 17 July 2012: This story has been updated to make clear Gill Slattery believes Currymoor could be affected by flooding, rather than the planned new homes.