North Somerset youth services cuts challenge dismissed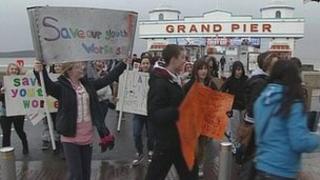 A legal challenge to large cuts in youth services in North Somerset has been dismissed by High Court judge.
The Conservative-led council wants to cut 71% of the department's funding over the next three years.
The action was brought on behalf of Aaron Hunt, from Banwell, who had claimed the council had breached the Equality Act.
In February, councillors voted through cuts of £14.4m for the next financial year.
A judicial review, brought in the name of Mr Hunt who suffers from learning difficulties and has Attention Deficit Hyperactivity Disorder, was held in Cardiff last month.
However a judge ruled on Wednesday the local authority had acted legally.
North Somerset Council said it was "delighted" the judge had rejected the judicial review but added defending the action had cost the authority in the order of £65,000.
"The council is faced with having to save over £47m from our budget by 2015.
"From the outset we have said that we would look at how services could be delivered in a different way rather than simply cutting them.
This is an example where community involvement as encouraged by Government has enabled us to keep delivering a service," a council spokesman added.
Union members and young people affected by the changes have held protests since the cuts were first announced.