Milk protest: Dairy farmers blockade two Somerset sites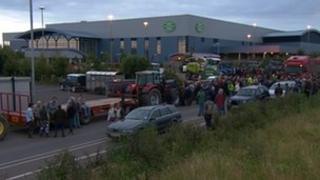 More than 200 dairy farmers have taken part in a protest outside a milk processing plant and the Morrisons distribution centre in Somerset.
The farmers were protesting over low supermarket milk prices which they say are driving them out of business.
About 200 people blockaded the Robert Wiseman plant on Thursday evening and about 30 tractors were outside the Morrisons centre.
Both firms said the blockades did not significantly affect their business.
Dairy farmer, Dean Sparkes who was outside the milk processing plant, said: "It was fairly well disrupted last night, there was certainly more tractors down there than we've ever seen."
The spokesman for Robert Wiseman said the centre close to the M5 near Bridgwater was on a cleansing shift at the time of the blockade meaning the impact was reduced.
"The trouble with these cuts is that they cut you today but you don't see the effects for six months," Mr Sparkes said.
"They cut you today and you carry on for the next month and the next month, but in six month's time you'll see a big decline because nobody's going to stick the winter."
A spokesman for Morrisons said: "We completely understand there is an issue with wholesale milk prices and they are looking at it to see if there are other models they can use that better support farmers."