Post office in Bridgwater town centre could be moved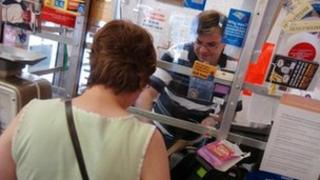 A consultation has begun into proposals to move Bridgwater's central post office to the edge of town.
The current post office branch is based in a temporary building in Northgate after the permanent branch at Angel Place closed in September.
Post Office Ltd wants to put a new permanent branch in Sainsbury's, a mile-and-a-half from the town centre.
Councillors will debate the plans at a public meeting later and will share feedback with Post Office Ltd.
'Habits are changing'
Chair of the community scrutiny committee at Sedgemoor District Council, Julian Taylor (Labour), said: "What people are concerned about is that if you take the post office out of the town centre it will remove footfall and will affect lots of other smaller traders and the viability of the town centre."
The Post Office consultation is being run by Consumer Focus and will run until 5 September.
Stakeholder manager for Post Office Ltd, Laura Tarling, said: "We're asking community groups and people to tell us how suitable the proposed location is and how easy it is to get there, and any concerns about the new location.
"What we do know is that customer's shopping habits are changing - they want the post office to modernise and they want to shop at times convenient to them."
The Sedgemoor District Council meeting is open to the public and will begin at 15:00 BST at Bridgwater House.