Mother's fight over Taunton crash jailing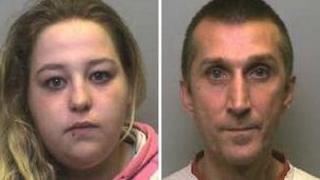 The bereaved mother of a 13-year-old girl killed in a high-speed car chase in Taunton has begun an appeal over the sentence handed to one of her killers.
Leanne Burnell was jailed for 18 months for causing the death of Amy Hofmeister by dangerous driving after encouraging a car chase.
Jane Hofmeister has appealed against the length of Burnell's sentence.
Mrs Hofmeister said: "It doesn't fit within the guidelines for sentencing for death by dangerous driving."
'So horrendous'
She said: "I've spoken to my barrister, I've spoken to the police, we're all scratching our heads. We don't understand what's happened here and how [the judge] could have come to that figure, when the guidelines are so clear.
"I need to have that explained. I have written to the Attorney General. I am appealing, then the judge can explain to me why he did that, and how he came to that conclusion."
The CPS said the guideline tariff for death by dangerous driving was between two and four years.
Jones, who was driving the car, admitted causing death by dangerous driving. Burnell, of Smithy, Bishops Hull, Taunton, whom the court heard had incited Jones to drive faster in the car race around Taunton, was convicted of the same charge.
'Lesser role'
Jones was sentenced to seven years in jail, a sentence accepted by Mrs Hofmeister.
When handing down the sentence the Judge, Graham Hume Jones, said there was a "greater difference in culpability" between the two defendants in causing Amy's death.
He said: "Miss Burnell, you played a serious part in this but a considerable lesser role. You encouraged someone to drive fast, which resulted in this tragedy.
"I am persuaded you should serve a much lesser prison sentence and as a result the sentence I pass is one of 18 months imprisonment."
Mrs Hofmeister said: "I've always said [I want] justice for my daughter. It was so horrendous what happened that evening. It was so needless and they have to stand up and take responsibility.
"All the events came out in court - she instigated it, she egged him on and encouraged it, there would have been no death of Amy had she not done that."
A spokesman for the Crown Prosecution Service said: "The CPS in regular contact with Amy's family and will discuss with them what further legal options are available."