Flooding in Somerset Levels: Government help urged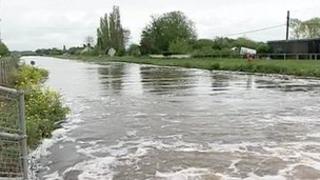 Flooding on the Somerset Levels has prompted a farming and wildlife group to ask the government to take action.
In recent months parts of the levels have been in drought or submerged in floods affecting farming and wildlife.
Tony Whitehead, from the RSPB, said: "We want to make sure the water is in the right place and at the right time so it works for farmers, wildlife and the community."
Defra has said it is working with the Somerset group to see what can be done.
'Devastating impact'
The group making demands to Defra is called the Somerset Water Management Partnership (SWMP).
The SWMP is made up of Somerset County Council, Somerset Consortium of Drainage Boards, National Farmers Union, Somerset Wildlife Trust and the Royal Society for the Protection of Birds.
"There has been a lot of talk over many, many years about getting this joined up plan for the levels, but there's been issues with funding," said Mr Whitehead.
A Defra spokesman has said: "The recent floods had a devastating impact on the Somerset Levels.
"The Environment Agency, working with local landowners, Somerset County Council and other key organisations, has begun an urgent review to understand what can be done to restore the area.
"Ministers have asked to be kept informed of the review's progress."