Weston street parking charges to go ahead in October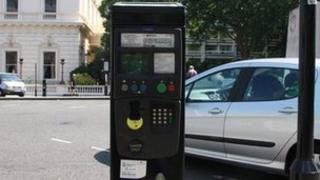 New on-street parking charges in Weston-super-Mare have been voted through by North Somerset Council's executive and will start on 1 October.
Motorists will be charged 20p to park on the street for up to 20 minutes and £1 for up to an hour.
Concern had been expressed that the charges would put shoppers off.
But council officials insisted the charges were needed to increase the turnover of spaces rather than to make money.
The Conservative-led council also said reducing the amount of circulating traffic looking for parking spaces would help protect and improve the environment.
It had received 27 letters and emails objecting to the proposals, with concerns including residents not being able to park near their homes and shoppers not wanting to pay.
Most streets affected by the order currently have free parking restricted to one hour.
Pay-and-display parking places on Hopkins Street and on part of Alma Street, which are currently without parking restrictions, are also affected.
The new charges will also include £1.80 to park on the street for 90 minutes and £2.40 for two hours.
The maximum permitted stay is two hours and the charges will be effective between 09:00 and 18:00, Monday to Saturday.