Weston Grand Pier legal action against alarm firm ends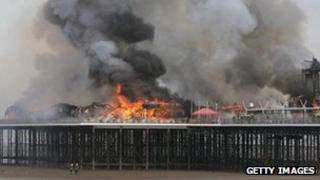 The owners of a pier which was devastated by a fire in 2008 have reached an out-of-court settlement with an alarm monitoring company.
The pavilion of the Grand Pier, in Weston-super-Mare, was destroyed in the blaze which was started by an electrical fault.
The pier's managers said the first alarm went off at 01:35 but no 999 calls were made until 07:00.
Essex-based Yeoman Monitoring Services was unavailable for comment.
The details of the settlement have not been revealed.
A pier spokesman said: "Yeoman Monitoring Services Limited has reached an out-of-court settlement with Grand Pier Limited to end their involvement in the court proceedings with no admissions of liability made."
Legal action against a second firm, System 2 Security, is due to be heard at Bristol Mercantile Court in November.
A spokesman for System 2 Security said it would not be seeking a settlement and said its monitoring equipment at the pier worked.
The pier reopened in 2010 after undergoing a £39m refit which saw the pavilion rebuilt.
The Grade II-listed structure first opened in 1904 and the original pavilion was destroyed in another fire in 1930.