London 2012: Heather Stanning road name honour call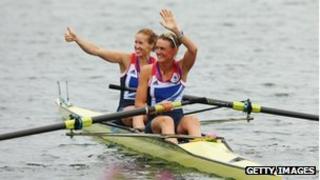 Efforts have begun to have a road named after Olympic gold medallist Heather Stanning in her birthplace of Yeovil.
Lib Dem district and town councillor Jon Gleeson has said there are plenty of opportunities given the thousands of homes planned for Yeovil.
Mr Gleeson said: "It's not very often Yeovil gets a chance to celebrate such a fantastic achievement."
One suggestion of his is Stanning Row, after she and Helen Glover won the women's pair in rowing on Wednesday.
"Many great athletes, footballers and other sportsmen have been honoured in the past with the naming of the road.
"In Yeovil we name roads after helicopters, so why not Olympians?" added Mr Gleeson.
He has set up a Facebook group as part of his campaign to win support.
The idea will also be debated during upcoming parish and town council meetings.
Formula One racer Jenson Button had a bridge named after him in his home town of Frome in 2010.