Somerset church appeals against bell being silenced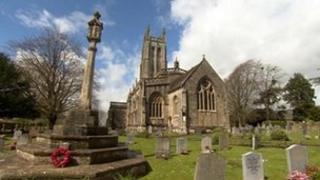 A Somerset church has appealed against its clock being silenced at night.
North Somerset Council issued a noise abatement notice against All Saints Church in Wrington, to stop its clock chiming between 23:00 and 07:00 BST.
The notice was served after new residents complained the chimes were keeping them awake at night. They have since withdrawn their complaint.
But a council spokesman said the notice "cannot be withdrawn unless the church complies or appeals against it".
The bell in the clock at the 15th Century church had rung out every quarter of an hour for decades.
But after receiving the complaint, council officials told the vicar Nicholas Maddock the bell must not be allowed to chime at night.
Now church leaders are appealing to have the notice withdrawn.
And a three-day hearing is due to be held at North Somerset Magistrates' Court on 8 October.
"We are hoping to settle this out of court," said the Rev Maddock.
"But the Parochial Church Council is very solidly behind us and if we win, we'll have the option again of the clock chiming every 15 minutes as it has done for over 100 years.
"Although we are suggesting they chime on the hour rather than every 15 minutes through the night."