New equipment bought to clean Bath streets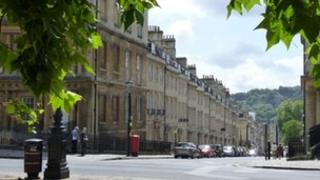 Criticism of Bath as "tired, scruffy and dirty" by tourists has prompted a £160,000 investment in new street-cleaning equipment.
The machines will be used to remove graffiti and chewing gum and sweep the streets more effectively, the council said.
David Dixon, cabinet member for neighbourhoods, said the investment would "tackle grime hot spots".
The council has spent £500,000 on street cleaning in the past two years.
Gary Skuse, a graffiti removal machine operator, said: "The tank holds 400 litres of water which can be heated up to 120C to get the most stubborn of stains off walls and pavements."
Another piece of equipment will be used to help water hanging baskets and empty litter bins in the city.