Weston Sand Sculpture Festival welcomes 25,000th visitor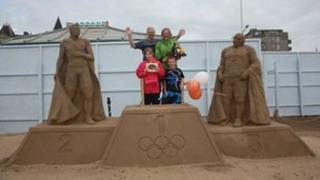 A family-of-four on a day out to a sand scultpure festival in North Somerset had a surprise when they were told one of them was its 25,000th visitor.
The annual Weston-super-Mare Sand Sculpture Festival opened on 1 June and is due to run until 9 September.
In June, 10 sand sculptures next to the beach, which are built to withstand rain, were damaged by high winds.
Organisers invited the Sherwin family from Wiltshire to have their picture taken on their sand Olympic podium.
The podium features sand sculptures of athletes in the second and third place positions.
The family, from Chippenham, arrived at 17:00 BST on Monday to be greeted with balloons, cake and a set of bucket and spades.
"Ideally, we'd have had glorious sunshine from day one and we'd have been celebrating 25,000 visitors a little while ago," organiser Nicola Wood said.
"We're surprised even at this point to be celebrating it given the weather over the last few weeks.
"The rain has just been relentless."
The festival, which is in its seventh year, attracts award-winning artists from all over the world.
This year's theme is Fun and Games.