Weston-super-Mare street parking plan 'worthless'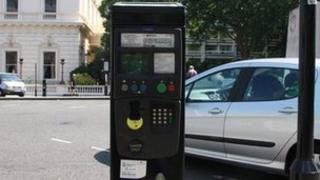 A decision to introduce on-street parking charges in part of Weston-super-Mare has been challenged.
Last month, Conservative-led North Somerset Council backed plans to start charging from 1 October and introduce resident parking permits.
But the Liberal Democrats say the permits are virtually "worthless" only offering two one-hour slots per day.
The party has now called the decision in, meaning the scheme cannot go ahead without further debate.
Tory councillor, Elfan Ap Rees, said there had been previous opportunities for all members to make suggestions or amendments.
"To suddenly bring these matters up at the eleventh hour is irresponsible and merely prolongs the need for shoppers in Weston-super-Mare to have better on street and off street parking facilities," he said.
Amendment debate
Council officials insist the charges are needed to increase the turnover of parking spaces rather than to make money.
The residents' permits, costing between £31 and £62 a year, allow parking from 0900-1000 and 1700-1800.
"The rest of the time they'll have to fork out to park outside their own home," a Lib Dem spokesman said.
"The permit needs to be more flexible and more generous in giving residents the chance to park at different times during the day."
North Somerset Council said officers would meet within the next two weeks to decide whether to uphold the decision or put forward an amended proposal forward.
"An executive meeting would then need to take place to re-consider the proposal," a council spokeswoman said.