Twitter ban backed during Clevedon Town Council meetings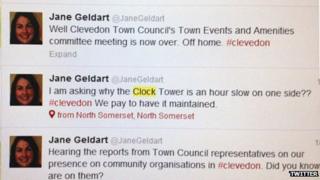 A Somerset councillor has said she will abide by a council decision to ban tweeting during meetings, despite being "disappointed" by the result.
Jane Geldart began using Twitter during Clevedon Town Council gatherings to try to get people involved in politics.
The council voted on Wednesday following the motion proposed by councillor David Shopland.
Ms Geldart said she "respected" the motion but would still tweet about council issues outside of meetings.
"I am not giving up," she added.
"I am thinking of what to do next. I still believe in the power of Twitter locally."
Mr Shopland wanted to prevent any councillor from communicating details from meetings while they were in progress to "prevent any misunderstanding or misinterpretation through the issue of incomplete information," he said.
'Get involved'
Ms Geldart had sent four or five messages from a previous council meeting using her personal account.
The contents of her tweets included references to the town's clock being one hour slow on one of its faces, the official opening of the town's multi-use games area and Clevedon's Christmas lights.
She previously said the messages did not make any "political statement" and hoped local people would "hear what's going on and want to get involved".
In an earlier statement to the BBC Mr Shopland said "uncorroborated and incomplete information" from council meetings was "dangerous".
He added that the official minutes were the "only record" of any meeting.
Mr Shopland's other motion, which would force councillors to switch off their mobile phones during all council meetings, was also approved.
Town clerk Paula Heath said the council decision simply "formalised a voluntary code of conduct".
She said: "We have not banned her [Ms Geldart] from tweeting. She can tweet as much as she wants before and after the meeting but not during."
Ms Heath added that councillors would still be able to have their mobile phones on silent during meetings in emergency situations, subject to prior approval.