Boy rescued from thigh-deep mud on Somerset beach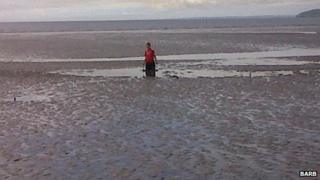 A boy has been rescued after he became stuck up to his thighs in mud 200m (656ft) from the shore in Somerset.
The 11-year-old went to wash his hands in a pool of water on Brean beach, near Burnham-on-Sea, but became trapped when mud gave way beneath him.
His parents failed to reach him and two hovercrafts from the Burnham Area Rescue Boat (Barb) charity were dispatched.
The crews used mud lances to free the boy, who is from Ebbw Vale in Wales.
Steve Bird, officer for Burnham Coastguard Station, said: "He seemed unfazed by the whole incident - it would have been a lot more serious if the tide had been coming in at the time."