Legal challenge to Tropicana demolition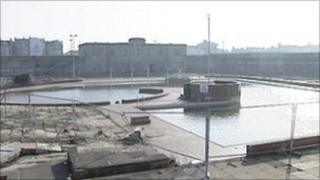 A group wanting to save the Tropicana site in Weston-super-Mare has said it is launching a legal challenge against plans to demolish it.
North Somerset Council has been given approval by the Secretary of State for Communities and Local Government to demolish the pool on the seafront.
It has stood derelict for more than a decade.
Trop (WsM) Ltd, which wants to redevelop the 1930s building, said it was applying for an interim injunction.
Derek Mead, chairman of the Trop (WSM), said: "We believe it is essential that the decision and the way it was taken are fully reviewed by the courts and as a first step we are preparing an application for an injunction to prevent any work taking place on the site until that has been done."
North Somerset Council said it had not received any legal documents.
The land is due to be cleared and returned to beach with a new sea wall.