'Occupied' Taunton Gateway park-and-ride reopens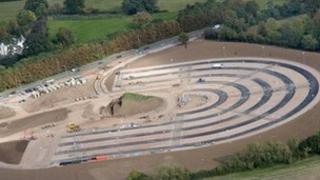 A park-and-ride site has reopened after being occupied by travellers over the weekend.
Somerset County Council said it closed the Taunton Gateway site, near the M5's junction 25, after what it described as its "unlawful occupation".
A council spokesperson said the closure was necessary because buses and cars manoeuvring made the site a "dangerous environment".
Motorists were allowed in to remove their cars on Friday evening.
"The travellers went of their own accord on Saturday afternoon and evening, " the council spokesperson said.
"Staff are clearing the site this morning, there are a couple of gas bottles and some rubbish on the embankments which has been bagged up.
"There were about 10 vans involved".
The site, to the east of the town, was shut on Saturday, but does not normally open on a Sunday.
The town's other park-and-ride, at Silk Mills to the west of the town, remained open as normal.