Rosemary Snell: Service for Beaminster Tunnel landslip death woman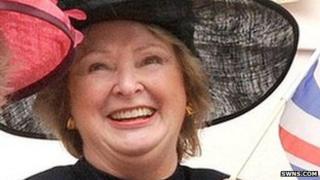 About 170 people have attended a memorial service for a woman who was killed when a car she was travelling in was buried under a landslip in Dorset.
Rosemary Snell, 67, from Somerset, was found along with Michael Rolfe, 72, at Beaminster Tunnel last month.
During the service, Ms Snell was described as "an enormous personality" and "a special woman who made a special mark, whose generosity knew no bounds".
The public service took place at St Leonard's Church in Misterton.
'Bubbly, amusing'
Judy Welch, the president of the Misterton Women's Institute (WI), said after the service: "She was bubbly, amusing and very outward going, although she was a private person, she helped everyone.
"It was terribly tragic, and sudden and it's the sudden that hits you, as someone who is so outward going and gregarious and popular, you think they just go on forever, and this horrendous accident makes it 10 times worse."
A private funeral for family and friends has also taken place at an undisclosed location.
Another memorial service has been planned in London on 24 November, where Ms Snell also worked as tour guide.
The couple are believed to have died when several hundred tonnes of water, mud, bricks and trees hit the car they were travelling in on 7 July.
Their bodies lay undiscovered for 10 days until their car was uncovered by rescue crews at the entrance to the tunnel.
An inquest heard post-mortem tests showed Ms Snell's death from chest compression was "very rapid", and that rescue efforts would have failed, Dorset Police said.
Mr Rolfe, also from Somerset, died instantly from a fractured spine.
The Independent Police Complaints Commission (IPCC) said it was happy with the way Dorset Police handled the case.
It said the force responded quickly enough and there was no issue to investigate.