Bridgwater wall collapse report finds no single cause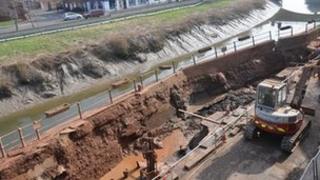 Leakage from a damaged surface water drainage pipe and existing erosion contributed to the collapse of a river wall in Somerset, a report has found.
The section of wall at West Quay, Bridgwater, fell following heavy rain last November.
A report found a combination of factors led to the collapse but that no single agency or event was to blame.
But the report also said the wall was "already on the brink of collapse" before the rain.
The independent report written by Robin Sanders, an engineer from Capita Symonds, outlined a number of factors which contributed to the collapse.
Mr Symonds said after the heavy rain, water leaked from the drainage channel into the ground which caused the water pressure to build on the wall.
'Number of factors'
More leakage leading to further rises in groundwater levels was caused by a surface water drainage pipe "probably severed and removed" by Wessex Water during mains works carried out in 2011.
A spokesman from Wessex Water said: "It is clear from the report that there were a number of potential factors that may have led to the collapse of the wall.
"While we are aware there was a small amount of leakage from sewers we believe the significance of this to be low and would certainly not have caused the failure of the wall."
It is also believed there was erosion at the bottom of the wall.
The report also found there was "possible leakage" from smaller sewerage pipes close to a manhole which also caused groundwater levels to rise.
Mr Sanders did not identify what he believed was the most significant factor.
Instead he said it could have been a combination of two or more of these factors, together with low tide levels.
After the wall collapsed, 19 properties on West Quay had to be evacuated on 5 November.