A-level results: Olympic hopeful Blair Brown gets top grades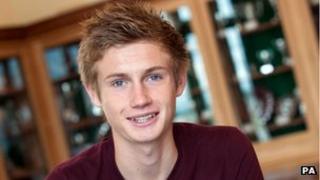 A teenager from Somerset aspiring to compete in the 2016 Olympics has got top grades in his A-levels.
Blair Brown, a sports scholar at Queen's College in Taunton, achieved A* in biology and PE and an A in maths.
The 18-year-old won the 2,000m steeplechase in English Schools Track and Field Championships in July and trains with Taunton Athletics Club.
He said: "I wanted to go to university to get a degree just in case the athletics doesn't work out."
Sports kit technology
The runner added: "I'm pleased with my results and they are better than I expected.
"I thought I was going to get straight As, so to get two A*s is brilliant."
The student hopes to continue his athletics training while studying sports technology at Loughborough University.
If his athletics career does not pan out, the teenager hopes to develop the technology in sports kits for athletes.
The Corfe teenager's other achievements include finishing sixth in the English Schools Cross Country championships in March.
Somerset Athletics Sports Partnership has also nominated him for the young achiever's award.
As well as athletics, the athlete played for his college's 1st XI in cricket and hockey, as well as the breaststroke swimming team.