Baroness tour bus crash: Alice Cooper sends support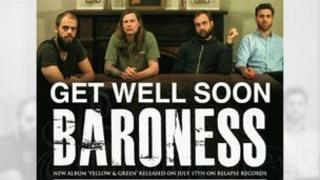 Rock musician Alice Cooper has sent a message of support to his "pals" in rock band Baroness who were involved in a tour bus crash near Bath.
"Thankfully nobody was killed. Recover quickly guys," he tweeted to his 96,000 followers.
Two people suffered multiple fractures when the coach smashed through barriers at Brassknocker Hill, in Monkton Combe.
Seven others received minor injuries when the vehicle fell 30ft from a viaduct at 11:30 BST on Wednesday.
The most severely injured passengers are still being treated at Frenchay Hospital in Bristol and the Royal United Hospital (RUH) in Bath.
'Terrifying images'
The seven others are also still receiving treatment at the RUH.
New York music journalist Zena Tsarfin said seeing images of the crash was "terrifying".
"Everyone escaped alive and everyone's thrilled about that," added Ms Tsarfin.
"People are really upset that this happened to such a good band, such a great bunch of blokes.
"[We're] wishing them all positive vibes, positive energies, speedy recoveries, and obviously everyone's really eager for them to get back out on the road again."
She said the four-piece group from Savannah, Georgia, were known for their "incredible" live performances, and their "soaring, epic, grandiose music".
The bus was travelling to Southampton at the time of the incident following the band's performance at The Fleece in Bristol on Tuesday evening.
The venue in St Thomas Street has set up a virtual card on Facebook and is asking for fans to post get well comments.
"We will print them all off and stick them inside this giant card which will also be signed by all of The Fleece staff and taken to the hospital", the venue said.
All remaining dates of Baroness's European tour have been cancelled.
Nearly 1,500 messages of support have been posted on the band's Facebook page.
Insp Steve Mildren, from Avon and Somerset Police, said that at the time of the crash "it was raining really very hard".
An investigation into the cause of the accident is continuing.