Baroness bus crash: Singer returns to US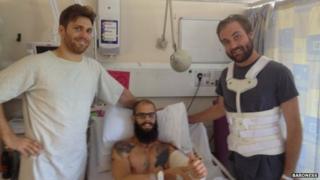 One member of the US rock band which was involved in a serious tour bus crash near Bath has returned home.
An online statement from Baroness said vocalist Pete Adams had returned to the US, and offered a "sincere and heartfelt thank you" to supporters.
Remaining band members John Baizley, Allen Blickle and Matt Maggioni have also released a photo showing them recovering in hospital.
The band's bus fell 30ft from a viaduct on Brassknocker Hill last Wednesday.
'Wave of positivity'
Nine people, including the four musicians, were on board the bus when it crashed in heavy rain while travelling from Bristol to Southampton.
Last week, a statement from the band said Baizley had a broken arm and leg, and Blickle and Maggioni had suffered fractured vertebrae.
It said the bus driver remained in a critical condition.
The band's latest statement, posted on its website and on Facebook, said: "Thank you to all of you who have been sending the tidal wave of positivity our way.
"We are uplifted by its sheer magnitude and power. Every single one of you is making our days and nights easier and our recovery quicker.
"Thank you all so much, we are truly lucky to have such incredible people on our side."
Baroness was formed in 2003 in Savannah, Georgia, and has toured throughout Europe and the United States.