Trooper Edward Heal's death 'accidental', coroner says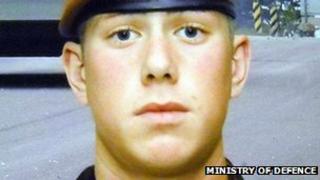 The lack of street lighting on a road in North Somerset where a soldier was killed walking home did not contribute to his death, a coroner has said.
Trooper Edward Heal, 19, was killed when he was hit by a car on Kenn Road, Clevedon, early on Christmas Day.
Lights are switched off from midnight to 05:00 in some areas, to save money.
Recording a verdict of accidental death, assistant deputy coroner Terence Moore said he would not be writing to the local authority.
The inquest at Flax Bourton was told that of 11 accidents in the South West in which pedestrians had died after lying in the road, 10 of them were in places lit by street lights.
Dragged by car
The court was told CCTV footage recorded in the hour before the incident showed the young soldier walking in the middle of the road and in the gutter.
A post mortem examination revealed he was almost three times over the drink drive limit - though he was not driving.
In a witness statement read to the court the driver of the Mazda which struck Trooper Heal said he had not seen anything in the road and stopped the car immediately after feeling a bump.
The soldier was found under the front wheels of the car having been dragged five metres (16ft).
Speaking outside court his father Roger Heal said he believed his son would still be alive if the lights had been on.
"It's a small amount of money [to save] for someone to lose their life," Mr Heal added.
Trooper Heal was a soldier in the King's Royal Hussars, based at the Tidworth Camp in Wiltshire, and was preparing for a tour of duty in Afghanistan in March.
Earlier this year a petition with 800 signatures was handed in to the local authority calling for the lights to remain on overnight.
Speaking then the council said decisions to switch off street lights were carefully considered and investigated.