Dylan Cecil sea fall death: Memorial service in Burnham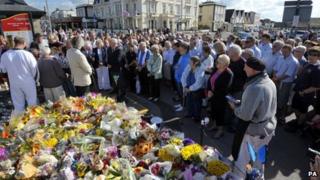 A memorial service will take place for four-year-old Dylan Cecil who died after falling into the sea in Somerset.
Last Sunday Dylan, of Northamptonshire, slipped from the jetty at Burnham-on-Sea but never resurfaced, prompting a large search.
The Reverend Graham Witts will lead a service from 18:00 BST at St Andrew's Church in Burnham.
"I'll be paying tribute to Dylan... as the family are not in a position to do so at the moment," he said.
Earlier, crews held a minute's silence during the town's Annual Rescue Services Day.
'Football fan'
About 200 people turned up for the minute's silence, which was also attended by Dylan's parents, family and the town's mayor.
The church service will include tributes to the rescue crew who helped in the search, at the request of the family.
Dylan's parents Rachel McCollum and Darren Cecil, of Kettering, and teams who tried to recover the four-year-old are expected to attend.
The Lazy Song, by Bruno Mars, Dylan's favourite song, will be played during the service.
"They have told me he used to whistle The Lazy Song and was a keen Kettering Town football fan like his dad," Mr Witts said.
"I hope the service will be helpful for the family and for the community in helping to come to terms with what has happened."
Dylan was visiting his grandparents with his parents and two younger sisters.
After he fell, his parents jumped in after him, but had to be pulled out of the water as the currents were so strong.
Dylan's body was found on Thursday on the mud flats at the high tide mark less than half a mile from where he went into the water.