Wind blamed for influx of owlets at a Somerset wildlife centre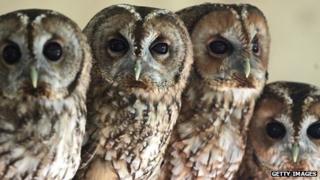 Windy weather conditions are being blamed for an influx of young tawny owls at a wildlife centre in Somerset.
More than 40 owlets were taken to the RSPCA West Hatch centre for care, between January and July this year.
The numbers are up by a third on last year and have doubled since 2010, according to an RSPCA spokesperson.
Peter Venn, manager of the centre, said "windy days" through the spring and summer could have been responsible for "knocking them off their perches".
'Get blown-off'
"This year we had quite a lot of bad weather around the end of April and early May when the majority of these owls were admitted," said Mr Venn.
"It's the months when the young owls are leaving the nest and they're perching on branches in the higher parts of the trees so they can easily get blown off their perch or waterlogged up there.
"And they're quite bulky - there's quite a lot of feather and quite a lot of wind resistance as well - so they can get blown-off and down on to the ground."
Most of the baby owls brought into the centre were discovered on the ground "cold and water-logged".
"Sometimes they may have been found at the bottom of the tree and mistakenly picked up by people thinking they need help," said Mr Venn.
"In reality tawny owlets can climb trees, so may have been able to find their way back to their nest on their own without interference."
More than 30 owlets have already been released, at least a kilometre apart, at "appropriate sites" across the south west.
A further 12 young owls at the centre are due to be released in the next couple of weeks.