Royal Marines from 40 Commando deployed to Afghanistan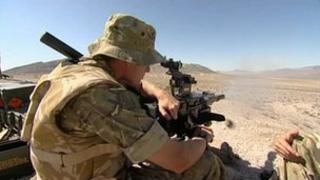 Royal Marines from 40 Commando have begun deploying to Afghanistan for a six-month tour of duty.
A total of 650 personnel, who are usually based at Norton Manor Camp near Taunton, will join Task Force Helmand.
Lt Col Matt Jackson, said: "The security situation in Afghanistan has really demonstrably improved [in] that people do feel like it has not been in vain."
The Royal Marines will be based in Nahr-e-saraj in Helmand Province.
During the previous tour of duty to Sangin in Helmand Province, 14 men from the unit were killed.
This tour of duty will involve 40 Commando training the Afghan National Security Forces.