Claverton Pumping Station to receive top transport award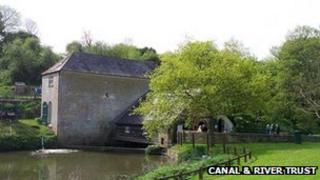 A Grade II-listed building in Somerset is to receive a top transport industry award.
Claverton Pumping Station, near Bath, which opened in 1813 is being honoured with a Red Wheel award from the Transport Trust.
The Red Wheel programme recognises Britain's greatest transport heritage sites.
The pumping station was designed by engineer John Rennie to supply water to the Kennet and Avon Canal.
The canal acted as a major freight route between London and Bristol in the 19th Century.
Vince Moran, operations director at the Canal and River Trust which owns the building, said the award "recognises John Rennie's engineering masterstroke and the dedication and foresight of today's volunteers who have made sure the station continues to operate."
Transport Trust President Sir William McAlpine said: "The Transport Trust is delighted to be awarding a Red Wheel to Claverton Pumping Station.
"The aim of the scheme is to increase awareness and appreciation of Britain's great transport heritage and Claverton is a classic candidate."
A Red Wheel plaque is to be unveiled at the station on 12 September.