War diary written by grandfather: Deciphering help needed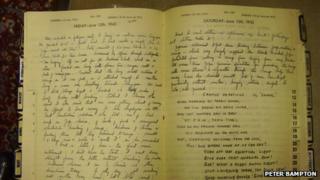 A man from Wells has appealed for help in deciphering a prisoner of war diary written by his grandfather.
The diary given to Peter Bampton was written by Donald Grist, who was imprisoned in Singapore from 1942 to August 1945 with his wife Jeanne.
Mr Bampton, said: "Changi jail was a dreadful place, out of 3,000 people a third of them died."
The diary, although not written in code, has been described as difficult to read as the writing is so small.
'Very little food'
Mr Bampton's grandparents were working in the colonial service in Singapore when war broke out.
"He was an agricultural chemist and that's when the bombing started hitting Singapore, they both survived the bombing but then we surrendered and the civilians were taken to Changi jail.
"It was awful, there was disease, malnutrition, very little food and there were many, many executions by the Japanese."
His grandparents were placed in same-sex jails and could only communicate in secret using notes passed by hand.
They did not see each other again until their release three-and-a-half years later.
On return to England they were not encouraged to talk about their experiences.
The only record of their internment is the diary, the notes which they passed between them and his grandmother's artwork.
This memorabilia was given to him by his mother 10 years ago.
"I have quite a number of paintings by my grandmother actually painted in Changi jail itself, I also have a diary of my grandfather of 1942 that's almost impossible to read.
"If they were caught keeping diaries then the consequences would have been very, very dire and I'm trying slowly to transcribe these pages."
Now Mr Bampton hopes that someone will be able to help him read his grandfather's writing more easily, by using specialised software to help 'read' it.
"It would be wonderful, it was really the love between the two of them that kept them going."