Somerset's Willow Man sculpture's £18,000 facelift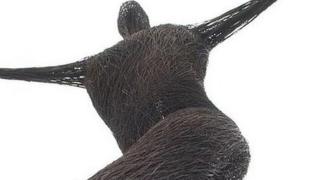 The giant Willow Man sculpture next to the M5 motorway in Somerset is to get an £18,000 facelift.
The 40ft (12m) sculpture near Bridgwater is to have its head and arms repaired over the next five days.
Artist Serena de la Hey said: "Some areas haven't been touched for 12 years, so it's inevitable that they need repairing."
The sculpture, commissioned by Arts Council England in 2000, was originally installed as a temporary work.
Made from locally grown willow woven around a steel frame, the current figure is the second to be built on the site after the original figure was destroyed by fire in 2001.
According to Ms de la Hey, the repair work now needed to the statue's arms and head is "fairly typical for artworks made from natural materials".
"They're more or less down to the metal framework," she said.
"So I will be going 40 feet up in a cherry-picker to reweave those areas, using local willow."
Further repair work to other parts of the body will be needed next year and Ms de la Hey is seeking support from local organisations.