Works starts on 60 projects on the Avalon Marshes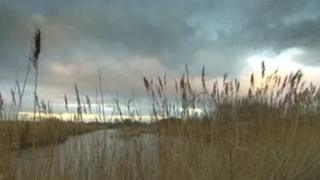 Work has begun on more than 60 projects aimed at improving wildlife habitats on the Avalon Marshes in Somerset.
Visitor facilities will also be improved in the £2.7m scheme which is set run over three years.
Naturalist Stephen Moss said: "In the next 10 years another challenge is to get tourism working here as it's so important for the rural economy."
The Avalon Marshes, near Glastonbury, currently attracts 70,000 visitors a year.
'Roman building'
The scheme is being run by the Avalon Marshes Landscape Partnership.
The partnership is made up of Somerset Wildlife Trust and includes Natural England, the Hawk and Owl Trust, the RSPB, Somerset County Council, English Heritage and the Environment Agency.
About £1.8m has been given by the Heritage Lottery fund to run the scheme with the remaining balance coming from other sources, such as the RSPB and Natural England.
Charities such as the RSPB will use the money to put in new devices to control water levels.
Another aim is to encourage school trips and tourism so people can learn about the area's cultural and ecological history.
Archaeologist Bob Croft from Somerset County Council said: "We'll be putting in new heritage interpretations at the old Peat Moor Centre [now called the Avalon Marshes Centre] where we'll put in new reconstruction buildings.
"We're going to build a Roman building, another Iron Age roundhouse, and even a Saxon hall."