Princess Anne visits Watchet to mark 150 years of lighthouse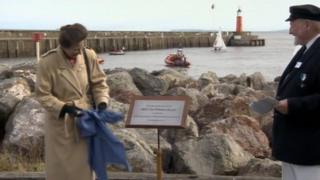 Princess Anne has unveiled a plaque to celebrate the 150th anniversary of a lighthouse in a Watchet.
She also watched sailing demonstrations by the 1st Watchet Sea Scout Group and named one of their new boats.
Chartered skipper Steve Yeandle said: "This is a great scoop, when Watchet shines it truly shines and it proudly shined today for Princess Anne."
The tender for the lighthouse was made in 1860 by the Watchet Harbour Commissioners.
They received three bids, including one by the engineer, Isambard Kingdom Brunel.
However, they chose the tender submitted by James Abernathy, and this was sub-contracted out to Hennet Spink and Else of Bridgwater, who built the tower for £75.
The light is said to have cost over £90 at the time.
"Watchet nestles in the shadow of the Quantocks, Brendon and Exmoor range of hills and as such this coastline is a very dark and dangerous place," said Mr Yeandle.
"As a boatman, that lighthouse is a beacon of hope that brings all of us, down many generations into a safe haven."