Traditional signposts to be restored in the Mendip Hills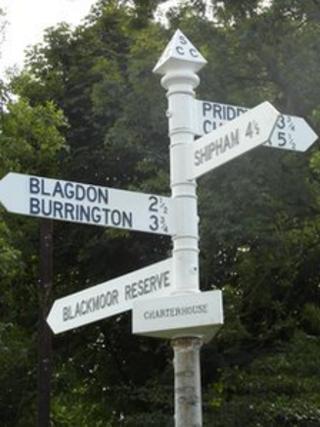 Traditional signposts are being restored to boost tourism and the environment, the Mendip Hills Area of Outstanding Natural Beauty has said.
The first 10 so-called fingerposts to be repaired are on the route from Two Trees, Burrington Combe, to West Horrington via Charterhouse and Priddy.
The original black and white signs date from the early 1900s resulting from the 1903 Motor Car Act.
They were traditionally located at high profile junctions and crossroads.
As there were no guidelines in 1903 as to how the fingerposts should look, each council developed signs with their own identity.
'Positive impact'
Restoration involves cleaning, pattern making, casting of new signs to replace broken and missing fingers, and painting.
A new collar with the name of the junction, the grid reference and "Mendip Hills" is being be added to each post to aid visitors.
"Restoration of finger posts in other AONBs and national parks have had a positive impact on tourism, an important part of the local economy," a spokeswoman said.
"[It has] also provided an improvement to the environment that has been appreciated by the local community."
Funding for the project has come from the Mendip Hills AONB Sustainable Development Fund.