Somerset equine therapy centre for autistic children closes down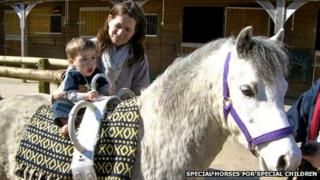 An equine therapy centre which has helped more than 600 families over the past year is to shut down.
Special Horses for Special Children, sited near Chard, used horse riding to help children with autism, Asperger syndrome and neurological disorders.
Some £35,000 was needed to keep it running. Although £12,500 was raised, this was not enough to save it.
Lilias Ahmeira, who ran it, said: "Horses eat regardless and need looking after and the cost became too much."
The centre, which opened 18 months ago, now plans to sell its six horses and will also give back donations from its latest fund-raising campaign.
According to equine therapy practice, riding horses can help to raise levels of the oxytocin hormone, which promotes well-being and happiness and lowers stress and anxiety levels.