Speed limit of 20mph in Twerton and Southdown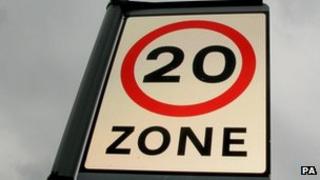 The first of a series of 20mph speed zones in residential areas of Bath have come into force.
Bath and North East Somerset (Banes) Council has introduced the speed limit in Twerton and Southdown.
Over the next two years the "vast majority" of other areas will follow to make streets "safer for children and adults", the council said.
A council spokesperson said the scheme across the whole of the district will cost £500,000.
Councillor Roger Symonds said: "People want to see safer streets and reduced speed limits so that their communities are better places to walk, cycle, and spend time in.
"The statistics are on our side. The Royal Society for the Prevention of Accidents (RoSPA) estimates that a pedestrian has a 90% chance of surviving being hit by a car at 20mph, falling to a 50% chance at 30mph and to 10% at 40mph."
Matt Hemsley, from Transition Bath, said: "Slower speed limits will play a big part in making our communities places for people, rather than traffic."
Ch Insp Simon Ellis, from Avon and Somerset Police, said: "Reducing the speed of motorists in built-up areas has to be a good thing and I have no doubts that it will make these areas safer places.
"I am hoping that drivers will take responsibility for the speed of their vehicles and adjust their driving habits accordingly."