Neil Andersen jailed for Bath sex shop arson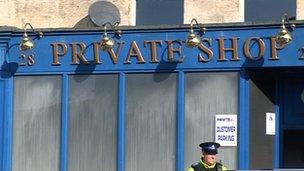 An arsonist who destroyed a sex shop in Bath has been jailed indefinitely.
Recorder Ben Compton QC said Neil Andersen, 43, of Wedmore Park in the city, was "dangerous".
Andersen, who has a psychotic illness, admitted setting fire to the shop in October 2011, saying he did it because he was "frustrated" with the owners.
Bristol Crown Court heard he has a previous conviction for stalking a BBC actress, who was not named, and that he had threatened her with a knife.
Andersen has 11 convictions for 18 previous offences including affray, the court heard. In 1993 he threatened to fire-bomb a pub after being thrown out of the premises.
The court heard Andersen has a mixed personality disorder was found by two psychiatrists to be dangerous and delusional.
He set fire to the sex shop on Lower Bristol Road on 21 October last year, telling the startled shop-worker "I've got a surprise for you".
He then poured petrol around the shop - above which lived a family - and lit it.
The flames destroyed the premises, owned by Darker Enterprises Ltd.
Andersen pleaded guilty to arson being reckless as to whether life was endangered after a judge ordered a jury to acquit him of the more serious charge of arson with intent to endanger life.
Passing the indefinite prison sentence, the judge said Andersen would have to serve at least four years in prison before being considered for parole.
He told Andersen he was satisfied he posed a dangerous risk to the public, but said he would not detain him in a psychiatric hospital because the two psychiatrists did not agree this was necessary.
The judge said: "There has been an escalation in your criminal behaviour. I do regard this as a very serious offence at the top end of recklessness.
"You will not be released until the secretary of state deems you safe to be released."
Related Internet Links
The BBC is not responsible for the content of external sites.