Masked men steal thousands from Cheddar Football Club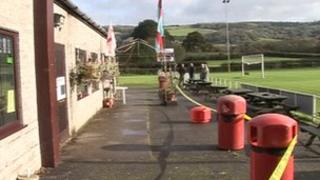 Masked men have stolen several thousand pounds from Cheddar Football Club in Somerset, leaving staff "shaken".
Police said they broke into the site in the early hours of Saturday morning using what was thought to be a crowbar.
The men were wearing balaclavas and threatened staff who were cashing up after the club's fireworks night.
They escaped with about £5,000 which was to be used to pay for the upkeep of the club's facilities.
The club's chairman, Steve Bayliss, said: "The girls are quite shaken up as you can expect. We are now closed for business today; our football's been cancelled."
He added: "To lose that money in one hit is concerning. It is very disappointing and it is going to be very difficult over the next month or two."