West Somerset Council's long-term future in question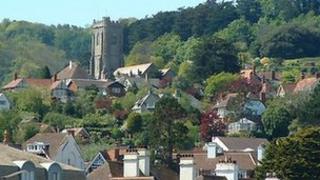 Fresh doubts have been raised in Somerset over the long-term future of England's smallest district council.
The Local Government Association (LGA) has published a report which highlights concerns over the viability of West Somerset Council (WSC).
For a number of years the council has struggled financially but this has been made worse by government funding cuts.
Council leader Tim Taylor has said all options will be considered when full council debates the report in December.
'Sharing services'
He said: "I feel that WSC is viable in the short term but there is a question over the viability of the council's core structure in the long term.
"The report recommends that WSC considers achieving savings both internally within the council and externally through the sharing of services with neighbouring councils and this will be explored further."
The LGA was invited by the authority to lead an independent investigation into its financial and operation viability.
As part of that, possible savings have been assessed if the council was to work more closely with neighbouring and partner councils.
In October the LGA held a meeting to discuss the future of local government with WSC, Somerset County Council, Taunton Deane Borough Council and Sedgemoor District Council.
The LGA's recommendations to the council include reviewing staffing levels, consider scrapping some services, sell the leisure centre site as a matter of urgency, and establish a review of local authority boundaries around West Somerset.
Collapse
Mr Taylor added: "We will take the LGA recommendations very seriously indeed.
"We will continue to make the case for WSC to receive an annual income per head of its population, which at least matches that of other Somerset district councils, so that we are able to provide services at a similar level to those provided by other district councils."
Some 35,000 people live in the district which is covered by West Somerset Council.
About a third of those live in the town of Minehead but much of the authority's 280 sq miles of coast and countryside falls within Exmoor National Park.
Two years ago Mr Taylor said the council could collapse after its grants were reduced by £600,000 (17%).