Cheddar starts storm clear-up as more rain is forecast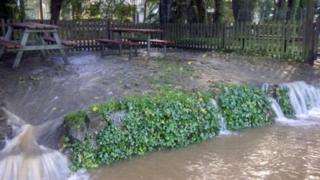 At first glance Cheddar in Somerset appears to have escaped the chaos two nights of torrential rain and strong winds have brought to parts of the UK.
People are still going about their daily business, wearing wellies and waterproofs, and all that remains are piles of sodden leaves, pockets of standing water and silt-covered drains.
But the village suffered heavy localised flooding.
And residents are now bracing themselves for further bad weather which is forecast to batter the county over the weekend and on Monday.
Postman Bruce Thorne, who was wearing shorts despite the conditions, said the recent weather was as bad as it got.
"This is the worst I've seen in 15 years of deliveries," he said.
"It is very flooded around by The Bays and at the bottom of Redcliffe Street.
"It was awful last night but it's gone down quite a lot now."
Redcliffe Street resident Diana Tonkyn lives in a pretty cottage opposite a row of shops.
She has been in the village for 10 years and, so convinced is she that the nearby River Yeo is fit to burst, she has just bought eight sandbags to put up at her front door.
"The river is the worst I've ever seen it. In 1964 it last breached," she said.
"We've been flooded by surface water before as we're in a dip but the river is in danger of coming over.
Sandbags ready
"I don't want it [water] in the cottage again. How much more can the river take?"
It is the same river that has given the nearby - and aptly named - Riverside Inn, located at the bottom of Cheddar Gorge, a busy morning.
Thursday night's heavy rain flooded the barn, part of the beer garden and the back car park, but, thankfully, left the pub largely unscathed.
"The car park was flooded and it was ankle-deep last night," said maintenance man Alan Phillips, who was still sweeping up large, wet clumps of leaves.
"It is likely to be bad again tomorrow night. We've got sandbags at the ready and cleared drains.
"It's in the lap of the gods; it's nature."
Builders' merchants WC Maunders Ltd, on Barrows Road, said the demand for sandbags has been unprecedented.
"We've done 500 sandbags in the last couple of days," said sales manager Jim Wornell.
"In 23 years of working here it's not been this bad. We could do with a person just taking sandbag orders.
"It is the worst I can remember and we've got more to come."
Mr Wornell said the shop sold sandbags all year round online but was currently experiencing huge demand.
"We're expecting a delivery of 2,000 sandbags today and 2,000 on Monday," he added.
Wherever you go in the village, people are talking about the weather.
It seems to have affected everyone, although not one perhaps little boy - undeterred by the wet and windy conditions, I overheard him asking his daddy for an ice cream.