West Somerset Council talks to avert 'financial ruin'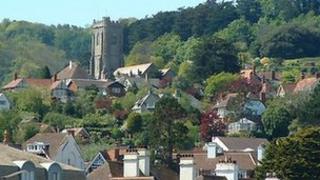 The leader of England's smallest district council says it is in talks to try to stop it from becoming a "financial disaster".
A government report recently raised concerns about West Somerset Council's viability after it was revealed that it was losing £100,000 a year.
Leader Tim Taylor said he was talking to neighbouring councils to see if they could help to provide services.
But Sedgemoor council said that would only be a short-term solution.
With 35,000 residents, West Somerset is the smallest district council in England but covers a wide rural area.
About a third of those live in the town of Minehead, but much of the authority's 280 sq miles of coast and countryside falls within Exmoor National Park.
BBC West's political correspondent Paul Barltrop said the council had been facing trouble for years.
He said it had been cutting staff and services but it was nowhere near enough.
Our correspondent added that one solution being looked at was to increase council tax by 39%, which amounts to £50 a year.
'Not going to go away'
Mr Taylor said: "Our council has been dealing magnificently with this challenge.
"It is simply that with the head of population of West Somerset, we are not getting enough income to run the services that our people deserve."
But Sedgemoor District Council leader Duncan McGinty said: "Clearly there would be savings by combining services, but the overriding problem is still there - it's a very large area with a very small population.
"The difficulty is in providing those services within West Somerset... [they] are not going to go away just by an alternative providing those services, that would only be a short-term measure.
"Some major decisions will have to be made as to how those services could be provided in the future."
The Local Government Association report recommended the council share services with other authorities, reviewed staffing levels, possibly scrap some services, sell the leisure centre site as a matter of urgency and establish a review of local authority boundaries around West Somerset.