Somerset floods: Fund set up for victims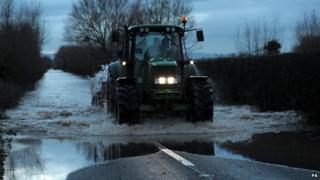 A fund has been started to raise money for people affected by heavy flooding in Somerset.
The county council has given the first donation - £50,000 - to Somerset Community Foundation's fund.
Although flood warnings remain in place, communities are starting the clean-up operation.
After five days of heavy rain, the Met Office has forecast dry weather, although there are concerns that floods will continue as the water drains away.
'Like a river'
Norton Fitzwarren was flooded on Sunday morning but flood water has not receded, hampering clean-up efforts.
Fiona Scott, who runs the Allerford Inn in the village, said: "Water levels have subsided a little bit but not sufficiently to get any form of clean-up operation under way.
"The weather is so unpredictable, it's a nightmare - earlier this morning it was pretty horrific, it was pretty much like a river coming by the front of us."
It is the second time this year the pub has been flooded.
The pub has been forced to cancel its Christmas bookings as the owners are not confident it will reopen in time for the busy festive period.
'Leave animals behind'
Suzanne Llewellyn's home and business in North Curry has been "wrecked" by the floods as oil has leaked into the water.
"It's fairly grim for us; we're still 2 to 3ft (0.6m to 0.9m) underwater. We can't come back here anymore now."
She said although the water had gone down by about 2in (5cm) overnight, high tide later will see it rise again.
Ms Llewelyn added that she was trying to get her animals, including rabbits, chickens and guinea pigs, out from the stable block behind her home.
"We're really struggling. We're freezing cold - we've got so much on our plate.
"It's hard to describe how devastating this is and having to leave animals behind makes it even more difficult," she said.
Elsewhere in the county, the RSPCA has rescued four Chihuahuas, pregnant heifers and their calves, a border collie and a German shepherd by boat from a flooded farmhouse in Langport.
'Non rain dance'
Also in Langport, several people are manning five pumps 24 hours a day to clear water away from businesses on the Westover trading estate onto the nearby road which is already flooded.
Annie Shillabeer, who has worked through the night, said: "I got a bit demoralised at about 5am but I perked up when I saw the water go down and keeping it at bay is a tremendous boost."
She added that she was surprised by the community's response.
"We are so lucky, people have been absolutely brilliant. We've had the local vet bring up petrol and the landlord bring doughnuts.
"Children are doing a dance to keep the rain at bay - a non rain dance. I haven't seen anything like it before."
She added: "If anyone who's capable of manning a pump for an hour or two at a time can come down and help that would be greatly appreciated."
Carla Yerbury, from the Willows and Wetlands visitor centre in Stoke St Gregory, said the flooding was having a bad effect on trade because the A358 via North Curry was affected by flood water.
"A lot of people are ringing assuming we are closed however we are open as normal," she said.
"People can get here and park safely to view the floods from the top of Windmill hill."
In other developments:
Devon and Somerset Fire and Rescue Service said it received no flood related calls overnight
It added that the service received 869 call-outs over the last five days. Of these, 218 people were rescued from 85 flooding incidents
Flood warnings remain in place, mainly for areas along the River Tone, River Yeo, River Parrett and Curry Moor
Trains are still affected, with buses replacing services to Exeter
First Great Western continue to ask people not to travel between Bristol and Exeter
A limited train service between Exeter and Yeovil Junction has now resumed after it was closed for several days due to flooding
Services to London Waterloo are now running every two hours
On the roads, the A361 at Burrowbridge remains closed because of flooding.
The enhanced content on this page requires Javascript and Flash Player 9
Map Key
Land
Cloud
Lakes, Rivers & Sea
Fog
Light
Heavy
Frost
Light
Heavy
Pressure Fronts
Cold
Warm
Occluded
Rain
Light
Heavy
Extreme
Snow
Light
Heavy
Temperature tab only
Temperature (°C)
More details from BBC Weather