Cuts planned to Somerset libraries budget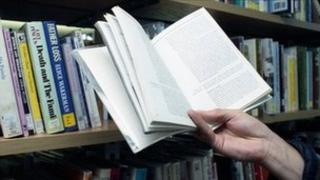 Savings of £860,000 have been planned for the next three years to Somerset County Council's libraries budget.
A one-off £250,000 book fund has also been included in the budget proposals, which are set to be debated next week.
Cabinet member David Hall said: "The libraries service has been in a bit of a decline, for long time, it's time to turn that round - not only make savings but bring it up to speed."
Library supporters have welcomed the fund but fear the cuts are too strict.
'Very good'
John Irvine, from Friends of Somerset Libraries (FOSL), said: "The strategy is very good - we believe it could enhance future of the libraries.
"But the overall budget that has been set is not sufficient and those savings of £860,000 aren't viable."
The strategy includes plans to explore ways of sharing library spaces with other public services as community hubs.
Communities will also be given a greater say on how libraries are run.
No library closures have been outlined in the proposals.
The book fund will run for two years and is in addition to the annual £200,000 the council already provides.
Previously the local authority wanted to withdraw funding to 11 libraries, but the High Court ruled last year the council's decision was unlawful.
The Conservative-led authority wanted to save £1.35m through the cuts.