Mike Bithrey killing: Anthony Andrews detained over damp row stabbing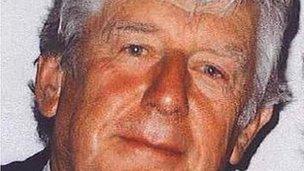 An 84-year-old man has been detained at a secure psychiatric hospital after a jury found he stabbed a businessman during a row over damp in his flat.
Anthony Andrews stabbed Mike Bithrey, 72, from east Devon, in the neck during a confrontation outside his Bridgwater home. Mr Bithrey later died.
Trial judge Mr Justice Eder ruled Mr Andrews was unfit to stand trial at Bristol Crown Court.
The jury had to decide if he committed the act and stabbed Mr Bithrey.
Mr Justice Eder ordered that Andrews be detained without limit of time.
Andrews, of Chilton Street, was not present in court as he was too ill having had a heart attack in October. He has also been diagnosed with the early onset of dementia.
The incident happened on 21 June this year.
Prosecutor Richard Smith QC told the court the two men had been in a long-running dispute.
He said Andrews was "not very happy and had not been for some time" about damp he said was in the flat.
The court heard Mr Bithrey owned 10 flats in the block but Andrews was not one of his tenants.
"It is quite clear that this defendant has become utterly disenchanted and fed up with his plight and when he saw the victim he went outside to challenge him and have another confrontation about it," said Mr Smith.
He said Andrews appeared to not be satisfied with what Mr Bithrey had said to him.
Mr Smith told the court that Andrews went back to his flat and pondered for a bit before picking up a kitchen knife and going back outside where he stabbed Mr Bithrey.
"He did so in front of the witness Steven Crossman," he said. "Mr Crossman saw the incident unfold in front of him and he saw the defendant return agitated and he was present when that stab wound was inflicted on the victim."
Mr Smith added: "Nothing could be done for him. The wound was such that life could not be saved."
The court heard that Andrews went back in his flat and waited for police to arrive.
He told officers: "That's payback for the years of misery, 16 years. I felt as though a big weight has been lifted off me.
"I felt very contented at what I done, for the way he has treated me for all these years."
During a series of police interviews, Andrews told detectives that he just snapped.
"I just stabbed him. Cut his throat. I knew that would kill him. I was just right up to here with it and I just couldn't take any more," he told police.
Related Internet Links
The BBC is not responsible for the content of external sites.