West Somerset Council anti-bankruptcy plan approved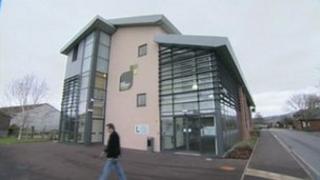 A plan to save one of Somerset's councils from bankruptcy has been approved by its councillors.
West Somerset Council held a full meeting where its councillors agreed to change to a skeleton authority and potentially see more jobs being cut.
The council has said it will now work on a business plan with Taunton Deane Borough Council to share services.
A trade union has said it is a "worrying time" for staff as the council is a big employer in the area.
In the past two years, the council reduced its staff from about 100 to around 80, in a bid to meet government spending cut commitments.
'Not viable'
Liz French, of Unison, said: "The council is one of the biggest employers in that area so it's going to be very difficult for people to get a job in a similar environment without them moving away, and even then they can't guarantee a job in another environment.
"It's a worrying time for them and the uncertainty this side of Christmas isn't great really."
An emergency meeting was held earlier this week with the local government minister Brandon Lewis, leaders and chief executives of Somerset County, Sedgemoor District and Taunton Deane Borough councils.
The meeting was held after a recent independent report concluded that in its current form, West Somerset council was "not viable" in the long term as it is losing £100,000 a year.
Council leader Tim Taylor, said: "We will now work with Taunton Deane to set up a structure and process to working out a business case - we will work on different models, the funding of them, who is employed and what is provided.
"We would be making sure that within the money available those services are provided in West Somerset - that is undoubtedly our brief."