Drug dealers operating in Weston-super-Mare jailed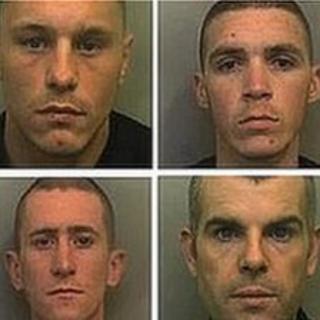 Members of an organised crime gang have been jailed for selling drugs on the streets of Weston-super-Mare.
At Bristol Crown Court, Thomas Dean, 22, Peter Melia, 24, and Daniel Frank, 20, all from Liverpool, pleaded guilty to conspiracy to supply class A drugs.
Dean also pleaded guilty to blackmail after he made threats to a local woman who refused to deal drugs for him.
Dean was jailed for seven and Melia for three years. Frank will serve three years in a young offenders institution.
Sentencing Dean, Judge Julian Lambert said he was a "persistent drug dealer" who played a "significant role" in the "large-scale conspiracy".
Melia was described as "a sophisticated and violent criminal" by the judge.
A fourth man, Matthew Tarr, 36, from Weston, who was recruited by the gang as a dealer, was jailed for four years for conspiracy to supply class A drugs.
Det Sgt Saj Rizvi said: "Based on the amount of money that went through Thomas Dean's bank accounts, we estimate this group made around 3,800 deals during their time in Weston - so around 25 a day."