Cannington residents build own flood defences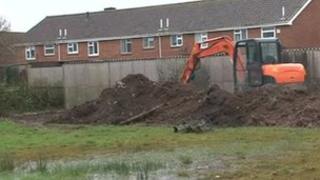 A community from Somerset badly affected by last month's floods has built its own ditch to stop it happening again.
Residents have removed hedges and trees in Cannington, near Bridgwater, so that they can build an escape route for the flood water.
Councillor Ian Dyer, who is behind the scheme, said he could not wait for authorities to do the work.
Last month 40 homes in the area were severely flooded.
Mr Dyer said: "Well if they want to take me to court, they can take me to court. At the end of the day, I know the people of Cannington are backing what we're doing 100 per cent."
Sedgemoor District Council said it had removed two garages to enable the water to flow down into fields. The parish council said it was going to tidy the area up.
The Environment Agency said it was investigating.
'Finite pot'
The agency said 310 homes in the area were recently flooded, but added that might be a conservative estimate.
Nick Lyness, the agency's flood manager, said: "We do build defences every year, but unfortunately it's a finite pot and there are demands all over the country.
"I have fought as hard as I can for my patch but there are some fairly big areas - say Nottingham - where recently there's a scheme being finished, and 6,000 people have benefitted from that."
Meanwhile, Cannington is set to benefit from new flood defences as EDF Energy, who are planning to build a nuclear power station nearby, have contributed £500,000.