Mendip cavers go 200ft underground for Christmas party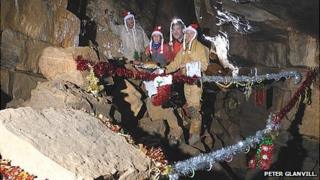 A group of cavers who discovered what is thought to be the largest cave in the Mendips has held its Christmas party 60m (200ft) below the surface.
Frozen Deep, a 30m (98ft) high by 60m (197ft) long cave in Cheddar, was found by the Tuesday Diggers in September.
The caving group, wearing fancy dress costumes, travelled down to a chamber halfway to Frozen Deep for their party.
Caver Nick Chipchase said he had avoided the mulled wine after falling "quite a height" at last year's party.
'Not mad rave'
According to Mr Chipchase, it took the group about an hour to reach their party venue.
"We decorated our kit and I had a white boiler suit with Santa's Little Helper written on it," he said.
"There were a few festive trimmings, a Christmas pie and we managed to get a small Christmas tree down without getting it crushed or muddy."
It is the third time the group has held its Christmas party deep underground.
"It's a mad crazy thing to do but it is tied in with conservation, we have our Christmas party and then we do our tidying up," said Mr Chipchase.
"It's not just a mad rave down a cave - and it's been a good year after finding the Frozen Deep in September."
Since the discovery of the Frozen Deep, which has the largest floor space in the UK, the group has discovered a large 300m-long passageway near Cheddar.