Cheddar Reservoir consultation is opened by Bristol Water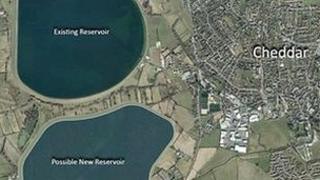 Feedback is being sought for a major new reservoir planned for Somerset through a series of public exhibitions.
Bristol Water has said the reservoir at Cheddar would hold nine million litres of water and would be built near the existing facility.
A spokesman for the firm said: "We want to hear people's views so we can develop the best possible scheme."
Bristol Water has said it aimed to put in a full planning application at the end of the year.
Views can also be submitted via the consultation website and the exhibitions will be held on:
31 January - Cheddar Church House: 15:00 - 19:30
1 February - Axbridge Town Hall: 13:00 - 19:30
2 February - Cheddar Church House 10:00 - 16:00
Plans for the new reservoir include a visitor centre, swimming and water sport facilities, as well as a cafe and picnic areas.